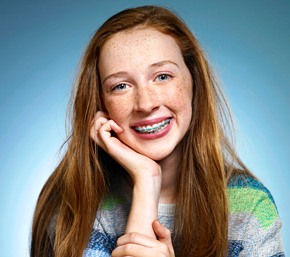 It's National Dental Health Month, and the team at Bel Air Orthodontics thought it would be a great time to share some oral hygiene tips.
Having braces can present some new challenges when it comes to keeping your teeth clean. It is essential that you put some extra effort into preventing tooth decay while wearing braces. When your braces are finally removed, you want a beautiful, white smile, not decayed or stained teeth. Here are a few tips to help you keep your teeth healthy while wearing braces:
The Tooth, The Whole Tooth, Nothing But The Tooth
When you brush, take time with each individual tooth and pay careful attention to the spots around the braces where food can become trapped. Brush for two to five minutes using a soft toothbrush with fluoride toothpaste for best results. Using an oral rinse every day will help too. Rinsing with mouthwash helps to disinfect the entire mouth, including the spots under the braces where you brush can't always reach.
It's All About The Angles
Place your brush at a 45-degree angle against the gums in order to clean the whole t00th. It's important to clean the front surface, inner surface (tongue side) as well as the chewing surface. Be sure to clean along the gum line - a key spot for plaque buildup. Don't forget to also brush gently in the area between the wiring and the teeth.
Brush After Every Meal
Since braces block food from naturally escaping your teeth after eating, it's important that you take the time to brush after every meal. Bits of food can easily get caught between braces and teeth. These food bits interact with the natural bacteria in your mouth and can cause plaque buildup and decay. If you are eating somewhere that you can't brush, thoroughly rinse your mouth with water.
Like A Boy Scout, Always Be Prepared
The easiest way to be sure you can brush after every meal is to get in the habit of taking a toothbrush, toothpaste and floss with you wherever you go. Designate a special container just for your teeth-cleaning tools and keep in in your purse, backpack or car.
Fluoride Is Your Friend
Fluoride - a mineral that helps prevent cavities and tooth decay - can help keep your teeth strong! Be sure to brush with fluoride toothpaste and rinse with a fluoride mouthwash. When choosing your fluoride products, look for the American Dental Association's (ADA) seal of acceptance. Products marked with the ADA seal of approval have been carefully examined and have met the criteria of the ADA for safety and effectiveness.
Pointy Brushes Reach Tiny Places
Interproximal brushes (sometimes called proxy brushes or interdental brushes) are cone-shaped, small brushing devices. They come in handy for reaching spots round your braces that standard brushes can't. Feel free to ask our clinical assistants for a sample and instructions for using the interproximal brushes at your next regularly scheduled appointment.
Find The Floss That's Right For You
Regular floss works for many patients, but others find it easier to work with a floss threader which helps you get the floss into tight places. Other patient like the all-in-one products, such as Superfloss, which comes with a stiff end for easy threading, a spongy section for cleaning wide spaces, and regular floss for narrow spaces. These products are relatively inexpensive and available at your local drugstore, so try them all to see which one works best for you.
Be Gentle With Your Teeth
Always avoid biting pens and other hard objects, and use your teeth for chewing food only - not as tools to open containers! Also, if you are a habitual tooth-grinder, let us know. We can help you address that habit to protect your teeth.
Eat Braces-Safe Foods
When you have braces, there are certain foods that you must avoid. For starters, sticky foods such as caramel or gum can get stuck in your braces and are difficult to remove during brushing. Avoid hard foods too, such as nuts and candy. Those goodies can bend wires and even break a bracket. So just what can you eat? We recommend soft foods that are low in enamel-busting acids, such as bananas, mangoes, milk, poultry and pasta. Don't worry, most of these dietary changes are temporary. Soon you'll be back to eating your favorite foods.
Get Regular Checkups
It's your job to take care of the everyday cleaning, but make sure to visit your dentist regularly while in treatment. Your dentist should be seen twice a year for a deep, thorough cleaning. With professional tools, your dentist hygienist can remove plague and tartar buildup that can form around your braces, bands or other appliances which can lead to cavities. Cavities can prolong your orthodontic treatment, and no one wants that.
As long as you practice good oral hygiene and follow these basic tips, you should have no problem keeping your teeth healthy during your orthodontic treatment. If you have any questions, feel free to let us know. We're always here to lend a helping hand.