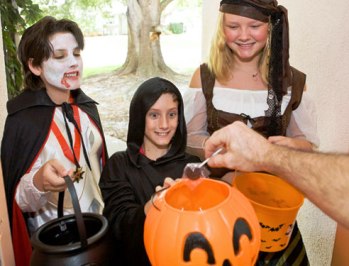 Halloween is a fun time of year, but before you head out to trick-or-treat, Dr. Godwin would like to offer a few tips for keeping your braces healthy and happy.  While Halloween treats are tempting, it's important to remember that many can cause havoc for trick-or-treaters with braces.  Treats that are sticky, chewy, hard or crunchy can potentially cause damage to braces, clear aligners, and other orthodontic appliances.  In addition to patient discomfort, a broken bracket or loose wire may prolong treatment and require additional appointments.
The team at Bel Air Orthodontics knows how hard it is to avoid all Halloween treats, so we encourage you to enjoy braces-friendly alternatives rather than feel that you are missing out on all the fun.  Dr. Godwin recommends that a few sweets can be okay occasionally, provided that you remember to brush and floss after eating.  Check out our frighteningly-good Halloween recipes and braces-friendly tips below so that you can enjoy the holiday and still be on pace to achieve your healthy, beautiful smiles.
Braces-Friendly Treats
In general, orthodontic patients should look for foods that are soft and easy to chew.  Soft, melt-in-your-mouth chocolates, peanut butter cups, milk shakes, gelatin, ice cream treats, and most soft cookies and cakes are good examples of braces-friendly treats.
Treats to Avoid
Patients undergoing orthodontic treatment should avoid treats that are sticky, hard, chewy or crunchy, such as caramel, nuts (including candies that contain nuts), licorice, jelly beans or taffy, hard pretzels, bubblegum, candy corn, and popcorn.
Here Comes The Good Stuff!
Now that you know the do's and don'ts, here are some fantastic recipes courtesy of the American Association of Orthodontists and The Braces Cookbooks, perfect not only for patients with braces, but everyone looking for a yummy homemade treat!  That way no one will feel left out this Halloween, and your party will be a monster success. To scare up your own Halloween party, try these recipes that are easy on your orthodontic hardware: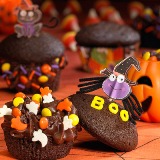 Click on the image to download the following recipes:
Spider Bites
Frightfully Fabulous Cupcake Sandwiches
Pumpkin Cookie Pops
Peanut Butter Eyeballs
Marvelous Molasses Cookies
Pumpkin Chocolate Chip Softies
Slimy Lime Punch . . . Enjoy!!
More downloadable recipes courtesy of the American Association of Orthodontists:
Have a great braces-friendly recipe you'd love to share? Send it to us at info@belairortho.com.