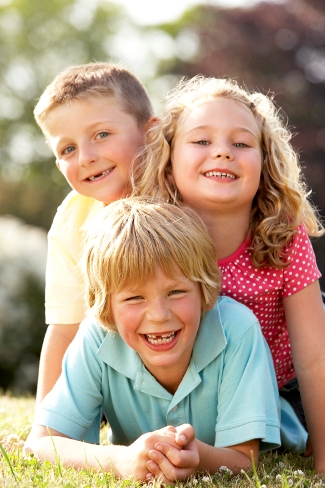 Every October, the American Association of Orthodontists (AAO) takes the spotlight during National Orthodontic Health Month. It's a time when orthodontists reach out to patients and their community to increase public awareness about the benefits of orthodontic care.
As part of that effort, Bel Air Orthodontics is spreading the AAO's message about the benefits of early orthodontic evaluation. Even though most people think of pre-teens and teens when they think of orthodontics, there are good reasons why all children should get an orthodontic evaluation much sooner. The American Association of Orthodontists recommends that every child get an orthodontic screening no later than age seven.
Why is age seven considered the optimal time for screening?
By this age, most children have a mix of baby teeth and adult teeth making it an ideal time for evaluation. With early screening, Dr. Godwin can spot subtle problems with emerging teeth and jaw growth. While many young patients may not be ready to start treatment, early evaluation allows us to choose the optimal time to begin treatment and provides a greater opportunity for an effective treatment outcome.
What are the potential advantages of interceptive treatment?
Early treatment allows Dr. Godwin to:
Correct and guide the growth of your child's jaw to help the permanent teeth come in straight
Regulate the width of the upper and lower arches
Create more space for crowded teeth
Avoid the need for permanent tooth extractions later in life
Correct thumb-sucking and help improve minor speech problems
Problems to Watch for in Growing Children
If you notice any of the following in your child, it's time to schedule an orthodontic evaluation: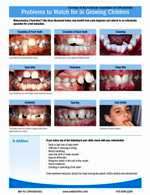 Early/late loss of baby teeth
Difficulty chewing or biting food
Mouth breathing
Finger or thumb sucking
Crowded, misplaced, or blocked teeth
Jaws that pop or make sounds when opening and closing
Teeth that come together abnormally, or do not come together at all
Jaws and teeth that are not proportionate to the rest of the face
Crowded front teeth around age 7 or 8
Additional information on early interceptive treatment is available at the AAO's website. To view and/or download their handout entitled "Problems to Watch for in Growing Children" click the image above.
Orthodontics does more than create beautiful smile – it creates a healthier you. If you have questions about your child's dental development, contact our office at 410-838-2244 to schedule an evaluation.