February 15th, 2021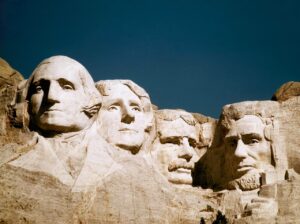 Did you know three U.S. presidents died on the 4th of July? Who knew that President Donald Trump is the 45th President of the United States but only the 44th man to hold the position? Presidents Day is the perfect time to test your knowledge on America's presidents. Find out how much you know about our fearless leaders with our Presidents Day trivia.
Which U.S. president was the first to bring a pet to the White House?
Thomas Jefferson's beloved mockingbird, Dick, is thought to be the first pet to live in the White House. Birds were said to be Jefferson's favorite animal and Dick often had free range of the president's study. Dick often sang the president to sleep, liked to sit on his shoulder and would even take food from Jefferson's mouth.
Which former U.S. presidents died just hours apart on July 4?
Three of the first five U.S. presidents died on July 4. John Adams and Thomas Jefferson died in 1826, just hours apart from one another. James Monroe, the fifth president, died five years later in 1831.
Which president could've been the next Mozart?
Maybe Harry S. Truman. He had the work ethic. Truman used to get up as early as 5 a.m. to practice the piano for two hours.
Which president installed a putting green in the White House?
Many American presidents have golfed while in office, beginning with William McKinley in 1897. Only Teddy Roosevelt, Hoover, Truman and Carter avoided the game. Dwight D. Eisenhower, though, was the first to bring the game to the White House itself. Less than a month after taking office in 1953, Eisenhower began practicing chip shots on the South Lawn and eventually commissioned a 3,000-square-foot putting green just outside the Oval Office. Supposedly, he played over 800 games of golf while in office.  It's no secret that President Donald Trump also has a love for the game. After all, he owns 17 golf courses around the world.
Who was the first to run against a woman for the presidency?
No, that wasn't Donald Trump. Ulysses S. Grant ran against Virginia Woodhull, the nominee of the "Equal Rights Party," in 1872.
Which president had 15 children?
John Tyler holds the record for the most children sired by a president. John Tyler's first wife had been Letitia Christian, with whom he had eight children. She died of a stroke in 1842. He married his second wife, Julia Gardiner in 1844, and they had seven children together bringing his total to 15.  He was a devoted husband and doting father to his rather large brood of children from both marriages.
Which President was shot in the middle of a speech but kept speaking?
On October 14, 1912, Roosevelt was campaigning in Milwaukee. He finished his dinner and stepped out of the Pfister Hotel to enter a waiting car. An assassin stepped out of the crowd. Raising a gun, the man fired one bullet at President Roosevelt. It passed through Roosevelt's overcoat, a fifty-page manuscript, a steel eyeglass case, and lodged in his chest. He coughed into his hand, and seeing no blood, determined that the bullet had not entered his lung. Refusing medical attention, Theodore Roosevelt went on to deliver the ninety-minute speech. Doctors later examined him and decided it was safer to leave the bullet in his chest. It remained there for the remainder of his life.
Which two presidents donated their salaries to charity?
Herbert Hoover and John F. Kennedy. If he follows through with donating his salary, President Donald Trump will be the third.
Who were the tallest and shortest presidents?
Abraham Lincoln was the tallest by far at 6 foot 4 inches. James Madison was the shortest president at 5-foot-4 inches.
Which president loved jelly beans?
Ronald Reagan loved jelly beans and placed a standing order of 720 bags per month to be delivered to the White House and various federal buildings.
Know any fun trivia that we missed?  Share it with the team at Bel Air Orthodontics!