May 6th, 2014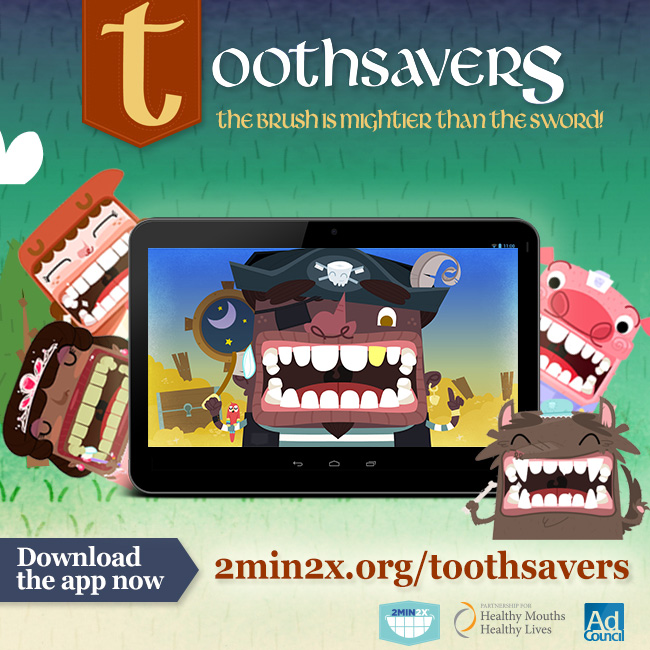 Are you looking for a fun way to inspire your young kids to brush their teeth? The Ad Council and the Partnership for Healthy Mouths has released a free mobile game app, Toothsavers,  which is designed to motivate kids to maintain healthy oral habits and have fun while doing it.
This interactive game encourages kids to brush their teeth for two minutes, twice a day by enlisting them in rescuing friendly fairy tale characters from an evil, cavity-creating sorceress who cast a wicked teeth-rotting spell on the kingdom. The Toothsavers game includes three freatures to help parents and their kids learn about the importance of dental health:
The game calls on kids to be heroes. In a timed, finger-swipe brushing game, they can save 10 characters in a fairy tale kingdom from an evil, cavity-creating sorceress.
The two-player version of the game allows for kids to "brush" the teeth of their friends and parents when the mobile device is held up to their mouths.
The app also offers a real-life toothbrushing companion for kids and parents to keep track of their brushing progress, as well as morning and nighttime reminders.
The mobile game app, geared toward children ages 3 to 6, is available for free in the App Store and Google Play for Android and iOS devices. There's also a great overview of the gaming app on the web at 2min2x.org.
While this interactive game is geared towards children who are typically too young to start orthodontic treatment, we believe it's never to early to introduce your children to the benefits of good oral health. Click the image below to watch a preview of the Toothsavers game.