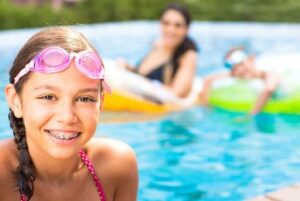 School is out and summer vacations are just around the corner. Vacations are all about fun, so the last thing you want to do during your summer vacation is to think about or deal with an orthodontic emergency. Don't worry, we've got you covered. Here are a few helpful reminders to keep your orthodontic appliances in check:
We're A Phone Call Away
First and foremost, remember that the team at Bel Air Orthodontics is here for you whether you are in town or away on vacation. If you have an orthodontic emergency, give us a call immediately and we'll do our best to address the problem over the phone.
Find A Helping Hand
Second, if we are unable to help you fix the problem over the phone or if you have difficulty reaching our office, we suggest going online and searching for orthodontic practices in your area. Most orthodontists will lend a helping hand to another orthodontic patient and get them out of discomfort. In fact, Dr. Godwin has helped many out-of-town summer campers himself. It's important for you to schedule a visit with us once you return from vacation so that Dr. Godwin can assess the problem and make any necessary adjustments to your orthodontic appliances. Please keep in mind that broken braces, wires or other appliances will not be repaired at your regular adjustment appointment unless you notify us in advance.
Keeping Your Braces Safe
Third, if you lose your retainers, don't panic! Call our office immediately so that we can schedule an appointment to take scans for new appliances. Vacations and great food go hand in hand, so we realize that it can be more challenging to keep track of your retainers while away from home. To avoid losing your retainers, please do not wrap them in a napkin. Dr. Godwin suggests putting your retainers in their case for safe keeping.
Last but not least, if you have braces, Dr. Godwin urges you to steer clear of the following foods to avoid broken brackets and/or wires while you are on vacation:
Chewy, sticky or gummy food . . . For example, we know that Boardwalk favorites like salt water taffy and caramel popcorn are temping summertime treats, but they're off limits to patients in braces!
Apples, pears and other whole foods . . . They're fine if you cut them into thin wedges or bite-size pieces before consuming.
Bagels and hard rolls
Bubble gum
Popcorn
Corn on the cob - unless you cut it off the cob
Hard candies
Hard cookies, pretzels and nuts
Follow these tips and you can have a worry-free vacation. Have a great summer!