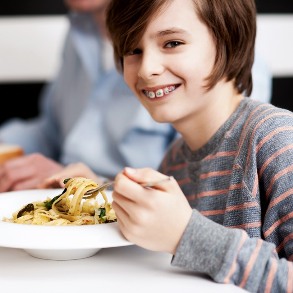 Now that you're wearing braces, it's important for you to avoid eating foods that are sticky, hard, crunchy or chewy. So, what does that leave for you to eat? Luckily, there was someone else wondering the same thing when she first got braces. A food-loving thirteen year old, Brenda Waterman, decided she was going to find a way to have her cake and eat it too, so she and her mother created a variety of braces-friendly recipes that allow you to enjoy many of your favorite treats without causing havoc for your braces.
Their cookbook, The Braces Cookbook: Recipes You (and Your Orthodontist) Will Love, gives orthodontic patients a variety of delicious recipes that are safe to eat with braces. From Be-Nice-To-Me Beverages to Definitely Deserved Desserts, each section includes simple directions, ingredient substitution tips, and some fun orthodontic tooth trivia. Their cookbook also includes tips and advice for packing lunches, what to eat at parties, and braces-friendly restaurant dishes. So, don't worry - there are still plenty of great foods that you can eat during your orthodontic care. Here's a delicious sneak peak recipe from The Braces Cookbook:
Marvelous Molasses Cookies - This was the very first soft-cookie recipe that Brenda's mom collected back in the mid-60's. These molasses marvels melt in your mouth, always stay soft, and have an aroma that is wonderful even before baking. Yum . . . the best of gingerbread and ginger snaps in one!
1 cup shortening
1 cup brown sugar, packed
1 egg
1/2 teaspoon salt
1/2 cup molasses
1/2 cup warm water
1 teaspoon baking soda
1 teaspoon ground cinnamon
1/2 teaspoon ground ginger
2 1/2 cups all-purpose flour
Preheat oven to 350 degrees. In large bowl using an electric mixer, combine shortening, brown sugar, egg, salt, and molasses and beat until fluffy. Add cinnamon and ginger. In a small bowl or measuring cup, stir the baking soda into the warm water; add this water mixture to the molasses mixture alternately with the flour until well blended. Drop by tablespoon onto greased cookie sheets. Bake for 11 minutes at 350 degrees. Makes about 4 dozen cookies.
When Brenda's mother, Pam Waterman, got braces, she decided to expand her repertoire to include gourmet soft food recipes for the discerning adult palate. In her new cookbook, The Braces Cookbook 2: Comfort Food with a Gourmet Touch, Pam and Chef Amee Hoge created 50 exciting dishes that you can dress up or down, depending on your time, energy and preferences. In this book, Pam includes tips and suggestions for handling the challenges of business lunches and dealing with oral hygiene in the office and on the road. It's a terrific resource for adults who want to straighten their teeth without missing the enjoyment of delicious food.
Both books are available for purchase online or at a bookstore near you. They are also on display in our reception room for your enjoyment. If you have any questions about foods that are safe to eat during your orthodontic treatment, feel free to ask Dr. Stephen Godwin or the team members at Bel Air Orthodontics.