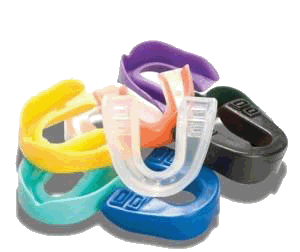 With school and fall sports in full swing, we thought it would be a great time to remind all our patients to protect their teeth and orthodontic appliances while out on the playing fields.  According to the National Youth Sports Safety Foundation, school-aged athletes have more than 3 million teeth knocked out in youth sporting events annually.
So how do you protect your teeth?
One of the most important pieces of sports equipment you can wear on the field is a mouthguard, especially when playing contact sports such as soccer, football and field hockey. Wearing a mouthguard can help kids with and without braces avoid serious sports injuries. In fact, the National Youth Sports Safety Foundation reported that athletes who don't wear mouthguards are 60 times more likely to damage their teeth.
Whatever your sport, the right protective gear can save your face, your teeth, and your braces. If you or your child suffers dental trauma such as a knocked-out or broken tooth, Dr. Godwin suggest that you contact your dentist for immediate attention. For those in braces, it's also important to contact our office to schedule an appointment for repair since damage to braces can lengthen treatment time and affect treatment results.
If you're wearing braces, Dr. Godwin and the team at Bel Air Orthodontics are happy to supply you with a special orthodontic mouthguard. Feel free to ask us more about mouthguards and sports safety at your next visit. Have a great sports season!