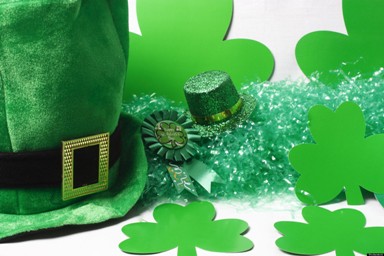 Lucky green shamrocks, leprechauns, and pots of gold - it must be St. Patrick's Day! If you're not Irish, how do you go about celebrating St. Patrick's Day? It's easy . . . You just put on one of those tall leprechauns hats, dress in green from head to toe, and wear one of those carefree pins that say, "Kiss Me, I'm Irish." On St. Patrick's Day, everyone is Irish, and that is the universal beauty of the holiday. Celtic pride does not discriminate.
All kidding aside, St. Patrick's Day is an important cultural and religious holiday. There are lavish parades and church services across Ireland on March 17th. Over time, however, the holiday has developed into a day to observe Irish culture in general. In places like England and the United States, where there is a large Irish Diaspora, the holiday has greater significance than other countries. From the streets of Boston to St. Patrick's Cathedral in New York, it is a day of celebration, and many Americans of Irish decent will celebrate with their friends and family by cooking up a traditional meal of corned beef and cabbage.
So, to all of you with Irish ancestry, and to all of you who have decided to be Irish for the day, Dr. Godwin and the team at Bel Air Orthodontics wish you a Happy St. Patrick's Day. May the luck of the Irish be with you!