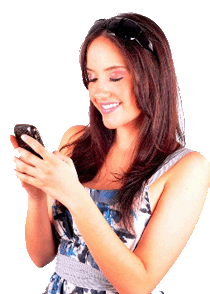 Summer's winding down and soon your calendars will be filled with school activities, fall sports events and family responsibilities. Though your calendars may be full, the team at Bel Air Orthodontics would like to remind everyone about the importance of maintaining your orthodontic appointments.
Access Your Account - Any Day, Any Time, Anywhere!
Staying on track with your appointments is important to the success of your orthodontic treatment. At Bel Air Orthodontics, we're doing our best to make that easy for you.  Did you know that patients at our office have access to their appointment information 24 hours a day, seven days a week? From our website's Patient Portal, you can look up your appointments, access your account details, and establish email and/or text reminder preferences with a touch of the screen or a click of the mouse. If you haven't already signed up for this convenient service, contact our office today for information on how to set up your online account.
To Stay On Track - Plan Ahead
To stay on track with your treatment, remember to plan ahead and schedule your next appointment before leaving the office. After-school appointments are typically filled a month in advance, so scheduling ahead will help you find a day and time that best suits your needs. While some orthodontic procedures have special time requirements, we'll do our very best to find an appointment time that is convenient for you. As always, please remember to give us advanced notice if you're unable to make your regularly-scheduled appointment. Early notification allows us to offer your reserved time slot to other patients and permits us to effectively accommodate your busy schedule.
Visit Our New Mobile Optimized Website and Patient Portal
If you haven't visited our Patient Portal recently, you may be pleasantly surprised. Our website has been updated and optimized for all use on all mobile devices, making it more accessible and easier to navigate. If you have any questions regarding the online patient portal or appointment scheduling, feel free to give us a call.