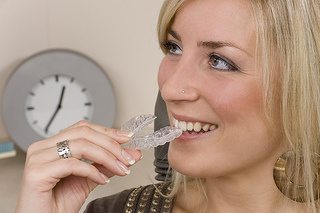 The fact is, most of us aren't born with a red carpet smile; and that's where Dr. Stephen Godwin and the team at Bel Air Orthodontics can help.  It's no secret that braces make your teeth strong, healthy and beautifully aligned,  but did you know you can get the beautiful straight teeth you've always wanted without traditional braces?
We're proud to offer a clear alternative option for straightening teeth called Invisalign®, which uses a series of nearly-invisible, removable aligners that no one can tell you're wearing. Today, we thought we would answer some of the most frequently asked questions we hear about Invisalign®.
Q: How is Invisalign® treatment different than traditional braces?
A: Not only does Invisalign effectively straighten teeth, Invisalign aligners are comfortable and durable, and provide patients the opportunity to enjoy their favorite activities such as sports and playing instruments, activities that can be challenging while wearing braces. Also, Invisalign's near-invisibility is a popular feature. Treatment is very inconspicuous, making it easier to fit in rather than call attention to treatment. Because Invisalign aligners are removable, patients can remove them at meal times, as well as properly brush and floss to maintain healthy hygiene during treatment. Finally, Invisalign treatment has fewer emergencies because there are no wires or brackets to break.
Q: How does Invisalign® work?
A: Using proprietary 3D computer imaging technology, Dr. Godwin will to map out a precise treatment plan from start to finish.  Based on your individual treatment plan, a series of custom-made, clear BPA-free plastic aligners is created specifically for you. As you wear each set of aligners, your teeth gently and gradually begin to shift into place. Approximately every two weeks you will begin using the next set of aligners which will continue the teeth straightening process and ultimately give you the smile you've always wanted.
Q: How long does treatment take?
A:  The length of treatment depends on the severity of each case and can only be determined after an comprehensive evaluation with Dr. Godwin. Choosing to straighten your teeth with Invisalign is an important decision. That's why we'd like you to take the time to learn everything you need to know before making that decision. For more information, call our office to schedule a complimentary initial consultation.
Leave a Reply